Fear Factor Live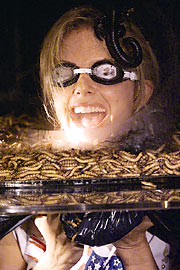 Replacing the Wild, Wild, West stunt show at Universal Studios Florida, a daily recreation of the popular NBC reality series Fear Factor will be coming to the park in May of 2005. Individuals, couples and even families will be selected from the audience and asked to test their mettle in challenging stunts for the live show that will run a few times daily.
Let's cover the obvious. Folks aren't going to be given maggot smoothies. They aren't going to be submerged in frigid waters in locked glass cases with limited time and way too many keys. This is a theme park. This is a theme park with liability insurance. This is a theme park that doesn't want you to toss your cookies at lunch or send you racing to a clinic in a cast.
So while the stunts will be challenging it will be more like Double Dare or Slime Time Live than having ordinary park guests sent driving stunt cars through a flaming hoop at the end of a ramp. Yes, it will be exciting to watch but it won't be THAT dangerous.
There are no age or height restrictions to catch the show. As you walk into Universal Studios Florida you will find that day's show times. Just arrive early to make sure you have a great seat. The show can get loud so keep that in mind if your children are sensitive to loud noises (and applause).
In the end, whether you are chosen or not, it will be a great show to watch.
Stay onsite at Portofino Bay Hotel
Stay onsite at Hard Rock Hotel
Stay onsite at Royal Pacific Resort
By booking your stay at one of the three onsite resorts you will not only be staying a short walk or complimentary boat ride from the park -- you will also receive the Universal Express benefit to avoid long lines and get on your favorite rides like this one quickly.

Logo art and most renderings Copyright 1999-2005 Universal Studios. This site is not an official site and any reproduction or likeness of Universal trademark properties are being used under the "Fair Use" realm due to the review and news reporting nature of our site.