The Eighth Voyage of Sindbad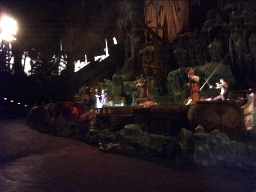 If Steven Spielberg calls Islands of Adventure the eighth wonder of the world, why can't Sindbad have an eighth voyage as well? Universal Studios has always put out a pretty decent stunt show at the original studio park so why not here? This one is housed in a 1700-seat covered arena and will dazzle you with live stunts against a wet and explosive backdrop. A freshly scripted sequel to Sindbad's epic seventh voyage movie finds our hero, and his sidekick Kabob in an adventure that will entail romance, deception and ultimate redemption -- all the while dazzling you with great feats of human and technical wizardry.
And yes, it is Sindbad -- not Sinbad. You wouldn't believe how many newspapers, websites and even books have spelled this one wrong. While you may want to spend some time checking out the fountain with an attitude in front of the theater's entrance you can also get wet inside the theater. There are two splash areas. The first is in the middle of the arena -- by the well. The other is the first few rows Stage Left (to your right as you come in). No, you won't get soaked but the first two or three rows on Stage Left will definitely get you wet -- twice during the show. Yes, the areas are marked as splash zones -- look for the blue painted drops.
Stay onsite at Portofino Bay Hotel
Stay onsite at Hard Rock Hotel
Stay onsite at Royal Pacific Resort
By booking your stay at one of the three onsite resorts you will not only be staying a short walk or complimentary boat ride from the park -- you will also receive the Universal Express Front-of-the-Line benefit to avoid long lines and get on your favorite rides like this one quickly.

Logo art and most renderings Copyright 1998-2005 Universal Orlando. All Rights Reserved. All reproductions of the park, or park content trademarks, are done under the "fair use" realm of trademark law. This site, its creator and associates, are not affiliated with Universal -- but we sure do love the place!