One Fish, Two Fish, Red Fish, Blue Fish - REVIEWS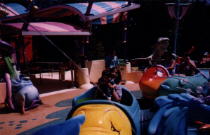 Islands
It's a kiddie ride where the grownups sport the widest smiles. Take the title of a popular Seuss short, add a whimsical song that you won't quickly forget, add the circular elements of "Dumbo" and throw in some water obstacles.
That's it! You have the ride. The song is the key. Listen for your cue to send your fish (red, blue, single or double) high or low. Follow along and you won't get hit with a small blast of water from fish sculptures that surround the ride. The third and final leg of the blasts is random, so, as the song says, "You never know".
This ride is a hoot and it's one of the truly breathtaking beauties at night when it's all lit up.
When to ride? The lines run longest in the afternoon when guests are angling for some splashing cool off relief. Your best bet is to hit this one early since it does load slowly.
RoxySurfer89
This ride is very creatively done compared to Dumbo at Disney. It's better to me because it interacts with the riders with a song. You have to listen and follow what the song says. And you get wet, but just a light spray. This ride is more for little kids, but I think you should ride it at least once.
dadwithkids
Universal has taken Dumbo and made it so much better. Me and my 4 yr old loved getting wet!
Chris
I loved the ride, I thought it was great. The ride is too short, but the line is way too long. I would never wait 20-40 minutes to ride something that short. The cool thing about it, is you go higher than you think you do. I rode it once and we (my partner and I) noticed it went much higher than like dumbo and stuff you know? Also, I noticed behind this ride, and the Cat and the Hat, I saw another ride being created. It is like cloudy, like on the walls and stuff. They've only created like 10 feet of the queue line and that's all that I saw. I hope to see it in the near future.
Scott
Dumbo Has Been Put To Shame
While this ride is primarily geared for the little ones, there is no reason why an adult should pass this one up. Far better than the standard Dumbo, this entertaining spin produces giggles from everyone. This ride is fun, and that's all that matters.
The Ride -- Post Reviews -- Back to IslandsOfAdventure.com
Logo art and most renderings Copyright 1999-2005 Universal Orlando. All Rights Reserved. All reproductions of the park, or park content trademarks, are done under the "fair use" realm of trademark law. This site, its creator and associates, are not affiliated with Universal -- but we sure do love the place!