Me Ship, The Olive - REVIEWS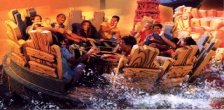 Islands
There are plenty of reasons to venture out to Olive's boat. For starters, you can get a great snapshot of the rest of the park out by the water. You also get to see riders on Popeye get doused with water guns on the second floor. Many of the slides and crawling nets are made mostly for kids but even grown ups will have fun trying to play Popeye's theme on the upstairs piano or just checking out the many pun-filled artifacts around the ship. Oh, yes. It's also a great place for shade or to escape from an afternoon thunderstorm
Phinkster
Water guns should charge 25 cents!
After riding Popeye we went to the top of Olive Oyls boat so we could soak guest with the water guns provided. They were being hogged by some boys 8-12 years old. Of course their parents did'nt mind. We waited about 10 minutes and finally decided they were going to stay all day. I blame the parents for this but I think the park should charge 25cents for 2 minutes just to keep people from hogging them.
The Ride -- Post Reviews -- Back to IslandsOfAdventure.com
Logo art and most renderings Copyright 1999-2005 Universal Orlando. All Rights Reserved. All reproductions of the park, or park content trademarks, are done under the "fair use" realm of trademark law. This site, its creator and associates, are not affiliated with Universal -- but we sure do love the place!