Poseidon's Fury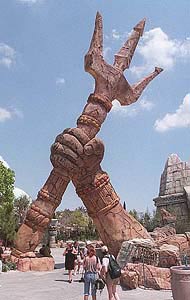 "If you so crave a kingdom to rule, then rule over oblivion."
The original Poseidon's Fury featured Zeus and Poseidon in a battle to end all battles of the mythological gods. The attraction was revamped in the summer of 2001 with a more simplified storyline -- and Zeus no longer gets dissed. This time you find yourself touring an archealogical dig -- and everything is starting to go wrong. Your nervous guide Taylor can't find the professor who was supposed to reveal the mysterious findings of a recent discovery and with every passing room you find yourself one step closer to Poseidon himself.
The standing and walking attraction will take you through some nifty surprises before the final battle between good and evil takes center stage. There are two jaw-dropping special effects in this attraction. The first, an amazing simulated water vortex, takes place inside Oracle room. Try to position yourself in the middle here to see the huge, 25-foot in diameter vortex form. It's an amazing sight to see, and the water is all real. You will ultimately walk through that very vortex of water!
The second neat effect takes place in the final room where you --
Ha! You thought I would spoil it for you? No way. This is a great production, complete with a thick storyline, and the last effect is the perfect exclamation to send you out of Poseidon's Fury, and back where you started.
What about the kids? Loud explosions, temporary moments of complete darkness and even the queue is lit dimly with flickering lights. While the attraction itself runs just about 15 minutes once the preshow starts impatient kiddies may get irritated when the cavernous queue stops moving for a good chunk of time between shows. If that last part concerns you, grab a Universal Express which will assure you entrance into the next available preshow.
Stay onsite at Portofino Bay Hotel
Stay onsite at Hard Rock Hotel
Stay onsite at Royal Pacific Resort
By booking your stay at one of the three onsite resorts you will not only be staying a short walk or complimentary boat ride from the park -- you will also receive the Universal Express Front-of-the-Line benefit to avoid long lines and get on your favorite rides like this one quickly.

Logo art and most renderings Copyright 1999-2004 Universal Orlando. All Rights Reserved. All reproductions of the park, or park content trademarks, are done under the "fair use" realm of trademark law. This site, its creator and associates, are not affiliated with Universal -- but we sure do love the place!