One Fish, Two Fish, Red Fish, Blue Fish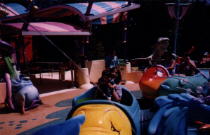 By now you're probably assuming that just about every ride in the new park will have some basis in traditional amusement ride with a twist.
Here we go again. Picture Disney's Dumbo attraction with water obstacles. What? Guests board a fish-sculpted vehicle, strap on the "For Marine Use Only" seatbelts, and take flight. That's right, flying fish! Like Dumbo you are attached to a mechanical arm which rotates along the ride's base. You have a lever in the middle to guide you up or down.
It's a gentle glide until you realize that you have to use your noggin here. Are you on red fish or blue fish? If neither, is your fish one or two joined together? Woah, who would've guessed going on a ride required thinking. During certain parts of the ride, in sync to an infectious song with lyrics that matter, water-spewing fish will hurl spurts of water towards the riders.
It's not a soaking even if you do get caught. It's a kind spray that dries off quickly. But even if you follow directions for the first two sets of instructions the third is completely random. "You never know," as the song leads on. If you want to find ride-related merchandise -- from One Fish, Two Fish t-shirts to games to tables and chairs -- check out the One Fish, Two Fish Store.
Stay onsite at Portofino Bay Hotel
Stay onsite at Hard Rock Hotel
Stay onsite at Royal Pacific Resort
By booking your stay at one of the three onsite resorts you will not only be staying a short walk or complimentary boat ride from the park -- you will also receive the Universal Express Front-of-the-Line benefit to avoid long lines and get on your favorite rides like this one quickly.

Logo art and most renderings Copyright 1999-2004 Universal Orlando. All Rights Reserved. All reproductions of the park, or park content trademarks, are done under the "fair use" realm of trademark law. This site, its creator and associates, are not affiliated with Universal -- but we sure do love the place!