Mythos Menu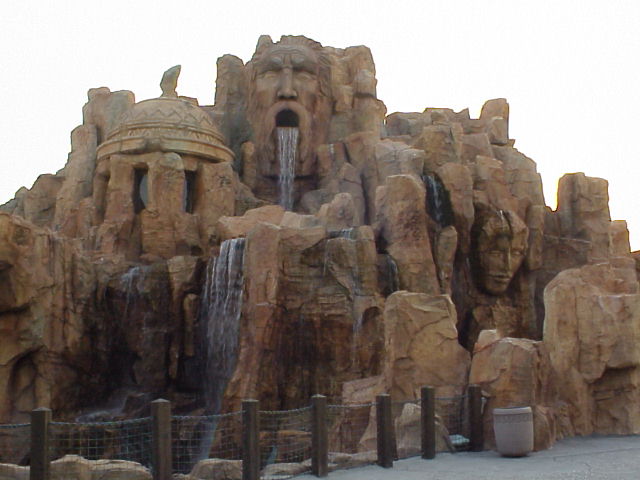 The menu at Islands of Adventure's upscale Mythos changes on a regular basis. You can't bore great chefs. Here is a sample menu from April 2001. Enjoy.
Starters
Mythos Jumbo Shrimp and Crab Claw Cocktail-create your own version of this classic served on ice with spicy cocktail sauce. $2 a piece.
Tempura Shrimp Sushi-with wasabi and soy drizzle. $8.
Wood Oven Pizza of the Day. $7.
Maine Lobster and Corn Bisque. $4.50.
Roasted Tomatoe Soup-with basil cream drizzle. $4.50.
SALADS
Vine Ripened Tomato Salad-with Buffalo Mozzarella. $6.95.
Chinese Chicken Salad-with Organic Soy and Sesame dressing. $10.
Heart of Romain Caesar-with homemade croutons. $5.50. with Grilled Chicken $9.50. with shrimp or fresh fish $10.50.
Mixed Baby Greens-with Stilton bleu cheese and tart cherry vinaigrette. $5.
PASTA
Gnocchi with Chicken and Roasted Vegetables-werved with a tomato and fennel broth. $15.
Risotto of the Day- $14.
Shrimp and Penne Alfredo- with seasonal vegetables, cream and reggiano parmesan. $13.50.
ENTREES
Wild Mushroom Meatloaf- with roasted tomato mash and fried tobacco onions. $15.
Blackened Corvina-with four cheese fusilli and a smokey tomato okra sauce. $16.
Cedar Planked Salmon- with balsamic drizzle, citus butter sauce and orange horseradish mashed potatoes. $16.50.
Seared Pork Tenderloin- with soft cheddar polenta and wild mushrooms. $14.
Mythos Hamburger- topped with cheddar cheese and applewood bacon and served with dries. $9.95.
It's A Wrap- Chef's daily creation wrapped in a grilled tortilla. $12.
Grilled Chicken Club-with smoked applewood bacon, Vermont cheddar and ranch dressing, served with fries. $9.95.
Balsamic Chicken- with a baked potato tart and roasted garlic. $15.
Grilled Sterling Steak- with Chef MArk's Potatoes and Worcestershire glaze. $19.
CHILDREN'S MENU
Child's Hamburger-with fries and a soda. $5.95.
Grilled Barbecue Chicken-with fries or mash and a soda. $5.95.
Cheese Pizza-with a soda. $5.95.
Linguini-with marinera sauce and a soda. $5.95.
Upgrade soda to shake or smoothie- $2.95.
DESSERTS
Tasting of Chocolate- $7.
KAhlua Creme Brulee- $4.95.
Apple Tart Tatin- $5.25.
Warm Chocolate Banana Gooey Cake- $5.25.
Strawberry Shortcake- $4.95.
Crispy Praline Cheesecake Roll up- $4.95.
Kid's Banana Split-$2.95.
Stay onsite at Portofino Bay Hotel
Stay onsite at Hard Rock Hotel
Stay onsite at Royal Pacific Resort
By booking your stay at one of the three onsite resorts you will not only be staying a short walk or complimentary boat ride from the park -- you will also receive the Universal Express Front-of-the-Line benefit to avoid long lines and get on your favorite rides quickly.