Orlando Bargains
Thanks to the emergence of discount consolidators like Hotwire and
priceline.com , grabbing a bargain flight, hotel room or rental car for your Florida vacation has never been easier. The catch? The mystery. Hotwire won't dole out the name of the hotel or flight number until you have bought in. At Priceline, not only is the location a mystery, so is the price as it is you that submits a bid.
Don't let that frighten you. The possibility of landing a hotel at more than 50% savings over booking directly is tempting. You also select the quality level of the hotel you wish to stay at. In terms of flights, Hotwire allows you to opt out of red-eye flights and limit the number of connections.
In short, if you absolutely need to stay at a certain hotel or book a specific flight,
priceline.com and Hotwire are not for you. The purchases are non-refundable too. While the rest of this page -- and the respective message board threads -- will help guide you as to what past Hotwire and
priceline.com users got it is not the definitive end-all guide. New hotels and flights get added. Prices will fluctuate. That said, enjoy!
Hotwire
Here are some past confirmations off Hotwire. Please note the area, star quality and amenities. If they all match up to what you see from Hotwire, it still doesn't mean you will get the same hotel. Keep that in mind and commit accordingly. After you book, post here so we can add it to this list.
Universal Studios - Sea World area
Embassy Suites -- 3 1/2 stars --
Amenities -- Suite, Restaurant, Pool, Fitness Center, Breakfast, Kitchenette, Business Center
Homewood Suites -- 3 stars --
Amenities -- Suite, Breakfast, Kitchenette
Wyndham Orlando Resort -- 3 stars --
Amenities -- Restaurant, Pool, Fitness Center, Tennis, Golf
READY TO BOOK WITH HOTWIRE? CLICK HERE!
Priceline.com
The adventure begins! While priceline.com leaves a great deal more to chance -- along with a little extra work on your behalf -- it is also an interesting option in securing bargain lodging. Rather than try and reinvent the wheel ourselves with Pricelines, check out BiddingForTravel.com's Orlando Board. There you will find recent accepted bids as well as a hotel list of recent confirmed bookings through Priceline.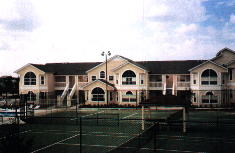 Got a big family? Interested in a 3 bedroom, 2 bath ground floor townhouse villa with all the amenities and a few paces away from a swimming pool, jacuzzi and lighted tennis courts (yep, that's it, the unit in the middle!)? Just five minutes from Disney and a convenient 15-20 minute drive to Islands of Adventure! For as little as $79 a night with a four night minimum, why check into a cramped room when you can have a home for the same price? Find Out More!

Want a wide selection of condo properties? Call Barb at Sun Country Villas, 1-800-895-6250 and ask for discounted offer B-13 or check out their new Website.