Merry Grinchmas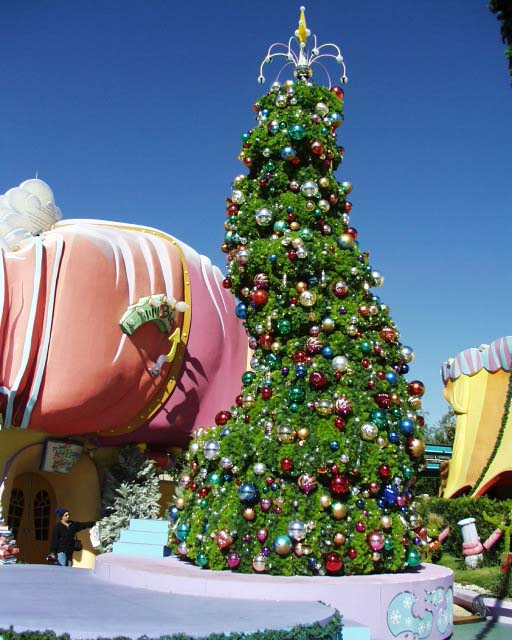 Seuss Landing is now home to the holiday favorite -- The Grinch. Through the holiday season (starting just after Thanksgiving and running through the first week in January), the entire land has been magically transformed into Whoville. You'll run into many of your favorite Whoville citizens and the Whos will get you into the holiday spirit with antics, song, snow and, yep, a snowslide down Mt. Crumpit Snow Plummet.
The snowslide is your basic Florida ski attraction, only, wait, it doesn't snow in Orlando, now does it? It's a small slide in which passengers hop an inflatable raft and slide down. Snowlike ice crystals help lubricate the path down but it's as simple as it sounds. Yet, right away, you might sense that the attraction will suffer from low capacity and you're right. If you hit Seuss first thing in the morning during Grinchmas you will have no problem, but show up in the afternoon -- especially on Saturdays when the park is at its busiest or during Christmas week, and the wait time can be substantial. Thankfully there is more to the slide to Grinchmas. Soap snow flies down from some stretches. There is a Grinch lair to see the mean one up close. Great stuff and it really gets you in the holiday spirit.
The "Whobilation" is there in strides and it means a lot of guests are actually heading towards Seuss first -- rather than engage in clockwise trek to Marvel Super-Hero Island. Plan accordingly. And, yes, Merry Grinchmas!
Stay onsite at Portofino Bay Hotel
Stay onsite at Hard Rock Hotel
Stay onsite at Royal Pacific Resort
By booking your stay at one of the three onsite resorts you will not only be staying a short walk or complimentary boat ride from the park -- you will also receive the Universal Express benefit to avoid long lines and get on your favorite rides like this one quickly.

Logo art and most renderings Copyright 1999-2004 Universal Orlando. All Rights Reserved. All reproductions of the park, or park content trademarks, are done under the "fair use" realm of trademark law. This site, its creator and associates, are not affiliated with Universal -- but we sure do love the place!