Caro-Seuss-el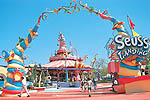 Your basic carousel? Hardly. This is the centerpiece of Seuss Landing. It's a stacked rotating explosion of color that draws you in.
A carousel? Not quite. The traditional horses have been replaced by Dr. Seuss characters like Dog-o-lopes and AquaMop Tops.
They are also interactive. Pull back on some of the collars and watch the heads move around. Others have levers which control simple movements.
It's a whimsical twist on carnival favorite. Yes, even a grown up will want to hop on for a spin.
Stay onsite at Portofino Bay Hotel
Stay onsite at Hard Rock Hotel
Stay onsite at Royal Pacific Resort
By booking your stay at one of the three onsite resorts you will not only be staying a short walk or complimentary boat ride from the park -- you will also receive the Universal Express benefit to avoid long lines and get on your favorite rides like this one quickly.

Logo art and most renderings Copyright 1999-2004 Universal Studios Escape. All Rights Reserved. All reproductions of the park, or park content trademarks, are done under the "fair use" realm of trademark law. This site, its creator and associates, are not affiliated with Universal -- but we sure do love the place!